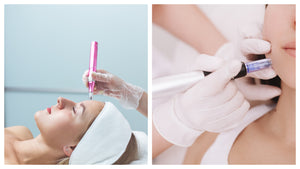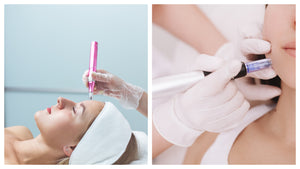 Lumi Glo + Dermapen = The Perfect Combo
Most of us start Dermapen treatment at some stage of our life. Why do we do it? 

Basically skin micro-needling treatment helps promote scarless healing and natural collagen production in the skin to improve the appearance of scars, acne scarring, stretch marks, wrinkles, pigmentation and rejuvenate the skin. 
The redness after the treatment is super intense and most people find they can't leave the house because of the redness.
Why the Lumi Glo Sheet Masks are perfect with Micro Needling?

Founder Shahnaz put the sheet mask to the test. After the Dermapen treatment the sheet 
mask
 was applied, using the Transderm machine giving the propulsion to get the CBD to penetrate 5 x deeper. You can see Shahnaz after she had the Dermapen treatment and then 45 
minutes after the electric propulsion treatment. The 
results
 are amazing and she was able to go food shopping 2 hours later. amazing right????


Tips on how to calm your skin:

Even if your therapist doesn't have the Transderm machine you can still apply the mask and then use your roller for 20 minutes to get that product deeper into the skin. Redness will be reduced and also take away any itching or burning that can happen in areas like the neck. The soothing ingredients of the mask help reduce the inflammation and any discomfort.


What the Therapist had to say:
"Lumi glo is an amazing sheet mask. As a salon owner it is very important for me to have a range of different masks that I can use after microdermabrasion and micro needling and this sheet mask ticked the boxes. The CBD is really soothing, helps reduce inflammation, and is great for sensitive skin. The HA serum really does hydrate the skin and makes the skin so soft. I also loved using my transderm over the mask to really push in the ingredients. I am very impressed with the Lumi glo mask! The sheet itself is also great quality and feels secure and lovely on the skin" From Candice Owner: Loveit spa.
Which Lumi Glo Sheet Masks work best with Micro Needling?Well they are all pretty amazing but two definitely stand out with our stockists the Hydration Booster and Skin Soother. Both are so soothing, calming and don't have any active ingredients that irritate the skin. 
The Hydration Booster:
The Combo of CBD Leaf Extract, Hyaluronic Acid, Coconut Oil, Avocado Oil and Glycerin have such an amazing calming and hydrating effect on the skin. 
The Skin Soother:
The combo of CBD Leaf Extract, Aloe Vera, Collagen and Argan Oil helps soothe and really calms the skin. 
---