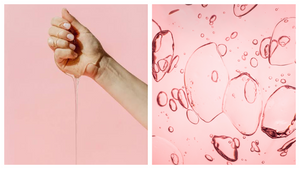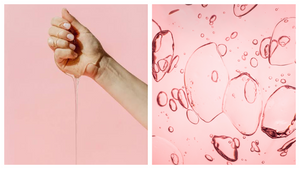 Hyaluronic Acid: A Glow Must
Why You Need Hyaluronic Acid in Your Skincare Routine?

When it comes to key ingredients in your skincare routine Hyaluronic Acid is one you can't live without. It's literally like a shot of water to the skin. It's so hydrating that's one of the reasons we included it in our Hydration Booster sheet mask. 


HA as it's actually a natural molecule that is produced by the skin. It forms part of our skin's moisturising factors and can retain up to a 1000 times its own weight. The older we get the less HA is actually produced which means we really need it in our skincare routine. Dehydrated skin means our makeup looks dull and we lose the glow which can equal some serious frustration.
6 Reasons Why Hyaluronic Acid Is Amazing:
1.
Hydration
: Hyaluronic Acid draws moisture into the skin which means dry skin and fine lines are smoothed and plumped. Our natural skin levels are boosted and our skin looks and feels amazing. Great for sensitive skin, oily skin and older skin.
2.
Anti-Ageing
: Dehydrated skin = wrinkles and fine lines. With Hyaluronic Acid in your routine it helps slow down the ageing process. Sun damage is also a killer when it comes to ageing HA is a great ingredient to help protect the skin's barrier and restore moisture after being in the sun.
3.
Repairs Skin Barrier
: Our skin has a protective barrier called a lipid. It's what keeps our skin supple and youthful. Basically it traps the moisture into the skin, protects against external aggressors and naturally moisturises the skin. For all this to happen we need a good skincare routine over time so we can have radiant and smooth skin with an even skin tone.
Over time the barrier function doesn't perform as well so we need Hyaluronic Acid to keep skin hydrated so that it can function.


4. Stimulates Cell Production: We need to make sure our skin is really healthy for it to perform at it's best. HA is an ingredient that is often missed. We need a few ingredients to really stimulate cell production but Hyaluronic Acid really helps by keeping skin hydrated and moisturised it can slow down the process of skin cell degeneration.


5. Safe option for filler: Since hyaluronic acid's composition is so closely related to substances in our bodies, it works well as a filler that doesn't cause major irritation


6.
Fast Absorbing
: It's f
ast absorbing unlike some skincare products, hyaluronic acid quickly absorbs into the skin, meaning you lose less product.
If you haven't gotten HA in your skincare routine yet it's a must. We promise your skin will be plump, dewy and youthful. Shop your Hydration Booster Sheet Mask for the ultimate glow. 


Shahnaz x


Shop the post:


---